Webstory: Ship trails in the Biscay Bay
A webstory has been published on ESA website on the aerosol retrieval from PROBA-V observations in the framework of the SPAR@MEP project. The webstory focuses on the retrieval of ship trails from PROBA-V images at 1km resolution with the CISAR algorithm. This interesting case study demonstrates the capability of the CISAR algorithm to correctly differentiate between fine and coarse mode. Also, processing both aerosols and clouds, the CISAR algorithm could represent a powerful tool to study aerosol-cloud interactions, such as the Twomey effect, using high resolution satellite imagery. The webstory can be found at: https://earth.esa.int/eogateway/news/ship-trails-in-the-bay-of-biscay-observed-using-proba-v-imagery.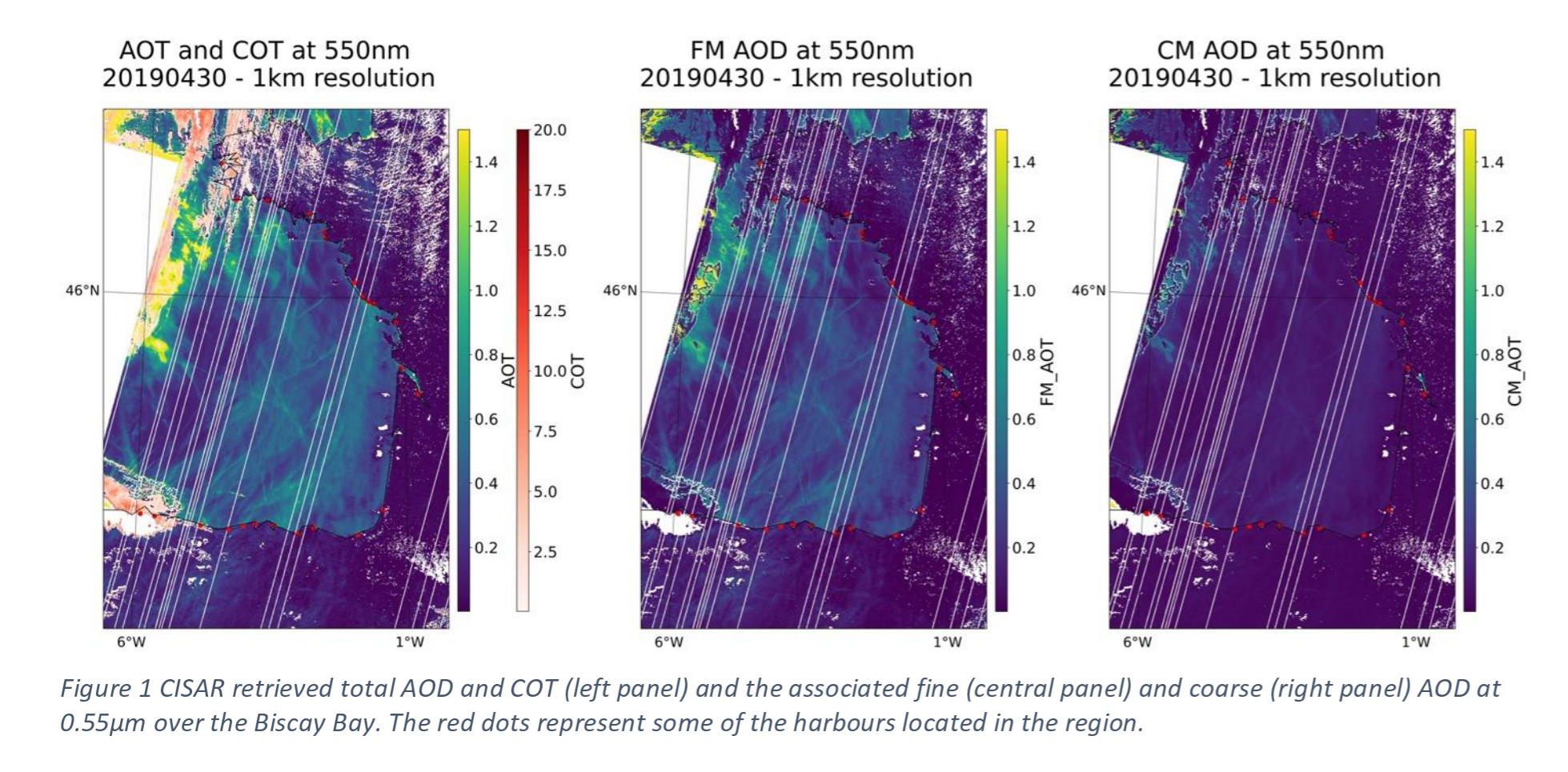 Mid Term Review
The Mid-Term Review (MTR) took place virtually via Webex on the 29th of September. First results of the LTRDR have been presented, obtained with the latest version of the CISAR algorithm, which includes the processing of cloudy pixels. A webstory will be published to advertise these results. The project duration has been extended by 6 months.
Progress meeting 2
The second progress meeting took place virtually on the 26th of May 2020. During the meeting the results on the calibration study on PROBA-V performed by Rayference have been presented, and they will be shown at the next PROBA-V Quality Working Group. The date of the Mid-Term Review has been fixed to September 29th.
Technical meeting
A technical meeting between Rayference and VITO took place at VITO premises on the 23rd of January 2020. During this meeting, the technical aspects of GEDAP implementation in the MEP have been discussed, together with the necessery resources to allocate for the project.
Progress meeting 1
The first progress meeting took place in Brussels on the 22/01/2020. The first milestone was successful with the deliverable of the surface reflectance dataset. During PM1, it has been decided to generate the Long-Term Regional Data Record (LTRDR) over Europe at 1 km resolution and the Global Dataset at 5 km resolution for the full Vegetation-PROBA-V archive. The next progress meeting will take place on the 26th of May 2020.
Kick-off meeting
The SPAR@MEP kick-off meeting took at ESRIN (IT) on the 06/09/2019.